1971 – 2021: VE.BA celebrates its 50th Anniversary!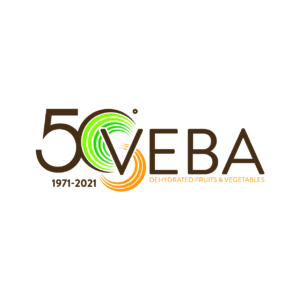 The Ferrara-based company, leader in the production of fruit and vegetables ingredients for food industry, celebrates its 50th year in the business!
Ve.Ba: the origin
Established on 22 January 1971 upon initiative of local fruit growers, VE.BA is a Cooperative based in Gaibanella (Ferrara, Emilia Romagna), where it can count on about one hundred contributing members with several hundreds hectares of orchards. Its core business is the transformation of fruit and vegetables 100% Made in Italy into ingredients for the food industry.
From the very beginning of its activity, VE.BA has always stood for its connection with Nature and Territory: processing has always been planned in harmony with fruit seasonality – specifically of Apple, Apricot, Williams Pear, Peach and Plum which are typical of Emilia Romagna region.
A continous certified commitment
The continuous commitment for the development of a high-quality production system, in line with the high standards required by the market and respectful of product naturalness, is testified by the numerous achievements gained throughout the years: VE.BA has obtained several national and world-class certifications like Bio/Organic – first obtained 30 years ago, in 1991! – Bio Suisse Organic, Kosher, BRC/GSFS and IFS.
Growth and innovation have always been guiding lights for the Cooperative, that never stopped investing in machinery and working spaces, so as to respond more efficiently to the customer's needs: renovation of offices and laboratories, new cold storage rooms and state-of-the-art sorting machines are just a few of the steps taken by the company in recent years, after the 2014 expansion with the acquisition of FIS, the historical brand famous in the city for Pampepato cake and other chocolate products.
Ve.Ba: a company that never stops
Actually, VE.BA is a reality in constant evolution and it has never stopped, not even amidst Covid-19 pandemic: "As our activity is largely connected with food industry, we had the possibility to continue working even during hard lockdown periods" company source says.
"Surely production and sales have been affected, particularly because of the troubles of Ho.Re.Ca sector, but we keep on working with the same dedication, and we're ready to face the new challenges that the coming years will bring".
And what about the next 50 years?
Indeed, one of the most important future goals for VE.BA is to improve its environmental sustainability.
Since long, the company is committed to implementing the use of renewable energies in the production process, while at the same time reducing plastic waste resulting from packaging.
VE.BA is also at the forefront of reducing the use of chemicals in its associates' orchards, applying  integrated pest control techniques and supporting the European strategy "Farm to Fork" to harmonize Agriculture, Environment and consumer Health.
The company is also starting a project, in cooperation with Ferrara University, regarding circular economy."Our challenges are ambitious" they conclude "but we are sure that they will further improve our production, always in line with our values: Quality, Authenticity and Convenience"
This post is also available in: Italian